SK!N is the boundary of our bodies. It is the membrane that helps us distinguish what is us from what is not us. It is the un-crossable border between our bodies and the other's alien body. Paradoxically, in the moment of contact between two bodies, when we attempt to go beyond our borders we are affronted by a stronger affirmation of our own identity.


SK!N is about migration and how, when and why we are allowed to freely cross borders whilst others have their movements restricted. It is about the lengths that people go to in order to survive or better their lives. It is about the dehumanizing trade of people: it's winners and losers. It is about how we, the privileged, actively and passively, consciously and subconsciously, benefit from and then distance ourselves from the plight of others.


By coming into contact with the other, by coming face-to-face with the other, our identities are forged and given meaning. With this work, we try to bring the audience into contact with the other so that they better confront themselves. This has been our process as much as we hope it is the audiences'. We do this in order for us to better understand what we share and what we don't share, and ultimately whether those differences are justified.


*Bring your own cup for coffee!


ABOUT THE SPEAKER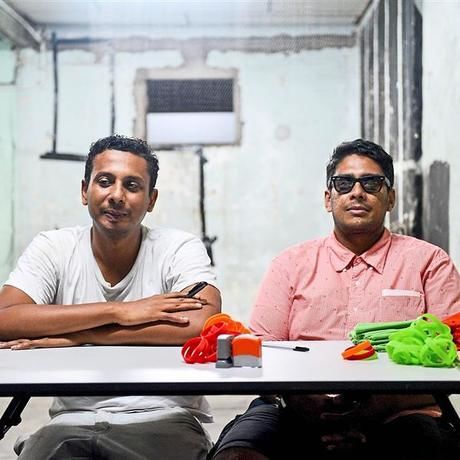 Formed in 2004 TerryandTheCuz has since established itself as a company with a truly global appeal. We have written, directed, created and designed work for theatre, dance, puppetry and art installations for artists, companies, governments and festivals across Asia, Europe, Australia, and The Americas. Since 2010 we have written, directed, designed and produced 'My Lingam Speaks', 'Klue,Doh!', 'The Bee Project', 'Flatland; an Adaptation in Dance', 'Welcome2Flatland' an Interactive Public Art Installation, 'SK!N' a work in contemporary performance based on true stories about Human Trafficking, 'Citrawarna, Colours of Malaysia 2017' for the Ministry of Tourism Malaysia, 'Thicker Than Water' and 'MADE IN AMERICA' which premiered Off-Broadway at The Public Theater, New York City.


We are currently working on the Adelaide Festival Centre's commission of 'LIGHT' and the Off-Broadway season of 'SPLIT', both new works in theatre, a contemporary Malaysian adaptation of Hamlet; a graphic novel/augmented reality project titled 'UnderKL', the European tour of 'SK!N', an immersive theatrical experience in collaboration with The KONEX Cultural City in Buenos Aires and are currently in discussions to write, produce and direct a television series which explores the themes of modern-day romance thru the prism of love, race, and gender.


TerryandTheCuz strives to write, create and design intelligent, humorous, passionate, visceral performance art that reflects and engages with our changing society, and to attract newer and more diverse audiences to the arts. We seek to constantly develop and extend our collaborative performance-making practice with artists both local and abroad, to find new forms, voices, and narratives in all our endeavors.
SIGN UP HERE